Guide to Las Vegas Trip Planning
Planning a trip to Las Vegas can seem like an overwhelming task, given the city's vibrant array and whirlwind of activities. With its neon hotels, world-class entertainment, iconic landmarks, and high energy nightlife, it's no surprise that so many people want to experience this remarkable destination.
This blog post is geared towards simplifying your planning process by providing comprehensive information from securing accommodations that fit within your budget to choosing must-do activities for an unforgettable experience.
Let's dive in and craft your ultimate Las Vegas itinerary!
Steps for Planning a Las Vegas Trip
Las Vegas is a city that offers a range of activities and attractions, so it's important to plan ahead based on the number of days you are staying and desired experiences. One of the major considerations for your trip to Las Vegas is to book your hotel and make reservations for restaurants and attractions in advance.
Follow these steps below and you will have a stress free trip to Las Vegas!
Determine the Best Time to Visit
Spring and fall are the optimal seasons to plan a trip to Las Vegas if you prefer comfortable weather. March, April, and May provide enjoyable temperatures that appeal to travelers wanting to explore both indoor and outdoor attractions in comfort.
Another favorable period comes in fall from September to November when summer heat starts winding down. However, keep in mind that hotels typically increase prices during these high demand periods as many tourists flock to enjoy these ideal weather conditions.
Set a Budget for Your Trip
Taking into account your finances is critical when you plan a trip to Las Vegas. From accommodations and dining, to gambling and night out expenses, every aspect of your vacation can impact your pocketbook.
Generally, travelers spend approximately $300 – $500 per day on their Las Vegas trip but with wise choices, that amount can be lowered.
To maximize your budget for your trip to Las Vegas, aim for affordability without compromising fun or comfort. Consider visiting during weekdays as hotel rooms on the Strip often come at discounted rates.
Another way is by leveraging hotel rewards for room bookings and choosing off-Strip accommodations during peak travel times – these are typically cheaper but still offer excellent services and amenities.
Choose Accommodations
Selecting accommodations in Las Vegas is a crucial step in your trip planning. The city offers an array of options to suit every traveler's needs and preferences. From opulent hotels on The Strip, known for their luxurious amenities and proximity to entertainment, to budget-friendly stays off The Strip that provide comfort without breaking the bank, there's something for everyone.
Las Vegas offers a wide range of accommodation options, from budget – friendly motels to luxurious resorts.
If you're looking for a more affordable stay, consider staying off the Strip. There are many hotels and motels in the surrounding areas that offer competitive rates.
On the other hand, if you want to be in the heart of the action, there are plenty of iconic hotels and resorts on the Las Vegas Strip. These hotels often have world-class amenities and entertainment options.
Another option is to book a vacation rental or apartment. This can provide a more spacious and home-like experience, especially if you're traveling with a larger group or family.
Don't forget to check out online travel websites like Expedia and Tripadvisor for deals and discounts on accommodations in Las Vegas.
Consider factors such as location, budget, and required amenities while making your choice to get the most of your Las Vegas experience.
Plan Activities and Attractions
Las Vegas is renowned for its wide range of activities and attractions, ensuring that there is something for everyone to enjoy. From world-class shows and concerts to thrilling casino experiences, the city offers endless entertainment options.
Researching and booking activities for your trip to Las Vegas is essential to ensure you make the most of your time in this vibrant city. By doing some research ahead of time, you can find a variety of exciting options that suit your interests and budget.
Look into upcoming events, shows, tours, and attractions that catch your attention. Compare prices to get the best deals and consider booking in advance to secure your spot. Whether it's exploring the famous Las Vegas Strip, visiting iconic hotels and casinos, or trying your luck at the casinos themselves, there are plenty of activities to keep you entertained during your stay.
With so much to see and do, planning your activities and attractions in advance will ensure you make the most of your Las Vegas trip.
Arrange Transportation
There are various transportation options available in Las Vegas for getting around the city and the famous Las Vegas Strip. Harry Reid International Airport, located near the Strip, offers several transportation choices to get you to your destination.
Here are some of the most popular transportation options to get around Las Vegas:
Las Vegas Monorail: The Las Vegas Monorail is a convenient and reliable way to travel along the famous Las Vegas Strip. It connects several resort hotels, making it an ideal choice for getting from one end of the Strip to the other.
Ridesharing Services: Popular ridesharing apps like Uber and Lyft are widely available in Las Vegas. With just a few taps on your smartphone, you can easily book a ride to your desired destination.
Public Transportation: Las Vegas has an efficient public transportation system, including buses operated by the Regional Transportation Commission (RTC). The Deuce bus, in particular, runs up and down the Strip, providing an affordable option for getting around.
Free Trams: Some hotels on the Strip offer free trams that shuttle guests between different properties. These trams provide a convenient way to explore various resorts and attractions without having to walk long distances.
Airport Shuttles: If you're flying into McCarran International Airport, consider taking an airport shuttle to your hotel or accommodation. These shuttles are cost-effective and often drop you off directly at your destination.
Rental Car: You can rent a car if you prefer driving yourself, all major rental car companies are available at Harry Reid International Airport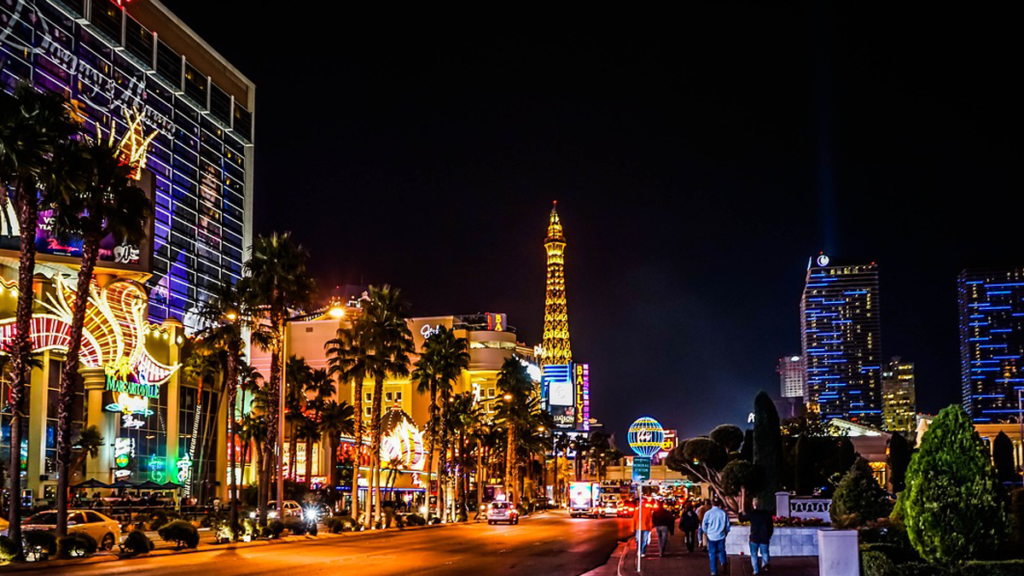 Choosing Where to Stay
When it comes to accommodations, Las Vegas provides a range of options to suit different preferences. The Strip, in particular, offers several luxury hotels like The Bellagio, Wynn and The Venetian. These hotels boast opulent rooms, sprawling pools, rejuvenating spas, and award-winning restaurants.
If you're planning a romantic getaway, consider the Paris Las Vegas Resort & Casino, which offers a unique experience of Parisian charm in Las Vegas.
For those on a budget, there are several budget-friendly options available both on the Strip and Downtown. However, it's important to note that accommodations on the Strip tend to be pricier, while Downtown hotels are more affordable.
Staying on the Las Vegas Strip
With more than 30 hotels directly located on the strip, there are diverse choices to suit different preferences and budgets. Multiple accommodation options are available on the Las Vegas Strip, making it a popular choice for visitors.
However, staying on the strip is not just about where you sleep – it's about immersing yourself in the vibrant energy of Las Vegas and being close to all the famous attractions and entertainment options.
While being in the middle of everything, staying on the Strip does have its disadvantages. Hotel and food prices are typically much higher than Downtown Las Vegas hotels and Off-Strip hotels.
Staying on Fremont Street
Staying on Fremont Street is a great option for those visiting Las Vegas looking for more affordable options but still want the Vegas experience. This historic street offers a unique and vibrant atmosphere that sets it apart from the famous Las Vegas Strip.
Hotels are typically older but still provide plenty of amenities, dining and entertainment options. In addition, Downtown Las Vegas offers a range of other attractions, including new restaurants and classic gambling options.
During the day, visitors can visit the Fremont Street Experience, explore The Mob Museum or enjoy shopping in one of the many boutique stores in the Arts District.
Off Strip Options
If you prefer a quieter and less crowded atmosphere, consider exploring off Strip options when choosing where to stay in Las Vegas. While the majority of accommodations are located on the famous Las Vegas Strip, there are alternative areas that offer unique experiences.
One option is staying in the South Strip area, which provides a convenient location close to the action but with a more relaxed vibe. The M Resort Spa Casino Las Vegas and South Point Casino are two popular options.
Additionally, there are various off Strip hotels that cater to outdoor and golf enthusiasts near Red Rock Canyon. The Red Rock Casino Resort & Spa, JW Marriott Las Vegas Resort & Spa and Suncoast Hotel & Casino are all great choices.
These options allow you to enjoy all that Las Vegas has to offer while having a peaceful retreat away from the bustling tourist areas.
Choosing a Hotel
Choosing accommodations for your Las Vegas trip can be daunting, there are so many hotel choices available. One thing I have found that helps is to choose a hotel based on location, budget, and required amenities. This will help narrow down the options and make your decision a lot easier.
Determine your Budget for Accommodations
To plan your Las Vegas trip effectively, one of the first steps is to determine your budget for accommodations. Consider how much you're willing to spend per night and the total amount you can allocate towards your stay.
Keep in mind that the hotel rates quoted usually do not include booking charges, taxes and resort fees making it crucial to carefully research and compare hotels to find the best option within your budget.
By setting a clear budget, you'll be able to narrow down your choices and make informed decisions about where to stay during your trip.
Determine What Amenities You Need
The amenities you need for your Las Vegas hotel will depend on your personal preferences and needs. If you're looking for upscale rooms, extensive amenities, and on-site dining and entertainment options, you can expect to pay higher.
Consider what features are most important to you, such as a pool, fitness center, spa services, or onsite restaurants. If you are traveling with family you may need a suite or multiple rooms which will narrow your search.
Choose a hotel that offers the amenities that will enhance your Las Vegas experience and make your stay more enjoyable.
Getting the Best Price
Finding the best price for accommodations in Las Vegas is crucial for staying within your budget. With average room rates on the Las Vegas Strip being over $200 a night, it's important to be savvy and search for deals.
Keep in mind that supply and demand play a role in pricing, so booking well in advance or during less busy times can result in lower rates. Additionally, consider off-strip options which tend to be more affordable.
Many resorts and hotel chains in Las Vegas offer discounts for various groups, such as military personnel, first responders, educators, and AARP members. These discounts can help you save money on accommodations while enjoying your trip to Las Vegas.
Additionally, checking websites like Expedia or Tripadvisor can provide access to exclusive deals and savings on flights and rental cars as well as restaurants, shows, and attractions throughout the city.
Look out for tips on landing low rates and take advantage of any hotel amenities or discounts available to save even more money during your trip.
Must-Do Activities in Las Vegas
Experience the thrill of a high-flying zip line, indulge in world-class dining, catch a breathtaking show, try your luck at a famous casino, and explore iconic landmarks – these are just a few must-do activities that will make your Las Vegas trip unforgettable.
Read on to discover more exciting suggestions!
Explore the Famous Las Vegas Strip
Immerse yourself in the neon glitz of Las Vegas by exploring the famous Las Vegas Strip. Marvel at the iconic replicas of world landmarks, such as the Eiffel Tower and Egyptian pyramids.
Take a stroll down this vibrant boulevard, lined with luxurious hotels, casinos, and entertainment venues. Indulge in shopping at high-end boutiques or try your luck at one of the many casinos.
After dark, witness the dazzling lights and electrifying energy that make this stretch truly come alive. With its endless array of restaurants, bars, shows, and attractions, there is never a dull moment on the Las Vegas Strip.
Visit Downtown Las Vegas
Explore the vibrant heart of Classic Vegas by visiting the Downtown neighborhood. With its unique blend of history, culture, and entertainment, there are always fun things to do in Downtown Las Vegas. Start your adventure at The Mob Museum where you can learn about the city's notorious past while enjoying a drink in a hidden bar.
Don't miss the iconic Fremont Street Experience, featuring dazzling light shows on the world's largest LED screen. Make sure to check out the Container Park as well, an eclectic shopping space that showcases local artists and hosts various events.
And for a one-of-a-kind shopping experience, head over to the 18b Arts District, where you'll find boutique shops and delicious dining options housed inside an old warehouse district.
Visit Iconic Hotels and Casinos
Explore the glamour of Las Vegas by visiting its iconic hotels and casinos. The famous Las Vegas Strip is home to around 30 hotels and casinos, each with its own unique theme and attractions.
Experience opulence at Caesars PalaceF, known for its grand architecture and luxurious amenities. Marvel at the dancing fountains of the Bellagio or step into a world of Venice at the Venetian Palazzo Resort.
For breathtaking views of the city, head to Stratosphere Casino or stop for a drink at the hip Cosmopolitan Hotel. Whether you're looking to try your luck at the tables or simply soak up the vibrant atmosphere, visiting these iconic establishments is a must-do on your trip to Las Vegas.
Enjoy World-class Entertainment
Las Vegas is known for its world-class entertainment shows. From dazzling musical performances to breathtaking acrobatics, there's something for everyone. From live shows featuring internationally renowned performers to stunning acrobatics and magical illusions, there's something for everyone's taste.
You can catch a show at renowned venues like Park MGM, Caesars Palace or Resorts World, where famous artists and performers showcase their talents in extended residencies.
Enjoy breathtaking performances by Cirque du Soleil or catch a concert by your favorite artist. Don't forget to check out the comedy clubs for some laughs or witness mind-blowing magic acts that will leave you spellbound.
Watching a live performance in Las Vegas is an unforgettable experience that should not be missed during your trip. So sit back, relax, and prepare to be amazed by the incredible talent on display in the Entertainment Capital of the World.
Try Your Luck at the Casinos
Las Vegas is known as the gambling capital of the world, so trying your luck at the casinos is a must-do activity. With a wide range of options available, you'll find everything from classic slot machines to high-stakes poker tables.
Whether you're a seasoned gambler or just looking for some fun, there's something for everyone in Las Vegas. So go ahead and take a chance, who knows what fortune awaits you in this exciting city!
Experience the Vibrant Nightlife
Las Vegas is famous for its vibrant nightlife that will captivate visitors from dusk till dawn. The city truly comes alive at night, with renowned bars, nightclubs, and street performers hosting unforgettable events featuring celebrity appearances and world-class DJs.
Whether you want to dance the night away or enjoy a sophisticated cocktail in a chic lounge, Las Vegas has something for everyone. With its 24-hour activities, you can experience the city's energetic atmosphere anytime during your trip.
So get ready to immerse yourself in the excitement of Las Vegas' vibrant nightlife and create memories that will last a lifetime.
Explore Nearby Natural Wonders
Don't miss out on the opportunity to explore the breathtaking natural wonders near Las Vegas. Just a short distance away, you'll find Lake Mead, where you can enjoy thrilling water activities like boating, kayaking and stand-up paddle boarding.
If you're an outdoor enthusiast, head over to Red Rock Canyon for its amazing hiking and nature trails that showcase stunning rock formations. And don't forget to visit Valley of Fire State Park, known for its remarkable fiery red sandstone formations, petroglyphs and being Nevada's oldest state park.
Enjoy the beauty of these nearby natural wonders during your trip to Las Vegas!
Take a Day Trip or Tour
If you're looking for an even more adventurous experience, consider taking a day trip or guided tour to the Grand Canyon. This natural wonder, located just a few hours from Las Vegas, offers incredible opportunities for hiking, sightseeing, and helicopter tours. Other nearby attractions include Lake Mead, Hoover Dam, and Zion National Park.
If you are not looking for a full day experience, you can also find shorter tours that range from Segway riding, hiking and off-road ATV rides to Food and Drink tours. Some of my favorites include the Haunted Las Vegas Experience and the Cadillac tour driven by Elvis himself!
Be sure to check out all the tours available to make your trip to Las Vegas truly special.
Enjoy the Food and Dining Scene
Las Vegas is a major culinary mecca, offering an array of world-class restaurants and unique dining experiences. With the Las Vegas Strip being home to numerous dining options, it's the perfect location for food enthusiasts.
Whether you're looking for fine dining at Michelin Star restaurants or dying to try the new Celebrity Chef, Las Vegas has something for everyone on their gastronomic journey.
When planning your trip, be sure to make reservations in advance as this bustling city tends to stay busy year round.
Tips for a Successful Las Vegas Trip
To maximize your Las Vegas experience, take advantage of insider tips and suggestions. First, make sure to explore beyond the famous Las Vegas Strip. While the Strip offers plenty of excitement, there's more to discover off the beaten path.
Another tip is to stay hydrated and protect yourself from the desert climate. Las Vegas can get scorching hot during the day, so be sure to drink plenty of water and apply sunscreen regularly.
Dress appropriately for the weather and different venues as well – bring layers in case you go from outdoor activities to air-conditioned casinos.
Stay Hydrated and Protect Yourself from the Desert Climate
I can't stress enough how important it is to stay hydrated and protect yourself from the desert climate. The dry air in Las Vegas can quickly dehydrate you, especially when combined with the intense heat.
It is essential to drink plenty of water throughout the day and replenish electrolytes to stay properly hydrated. Remember to plan outdoor activities for early morning or evening when temperatures are cooler, as the Las Vegas summer heat can be intense even earlier in the day.
By taking these precautions, you can enjoy your trip without succumbing to dehydration or overheating.
Set a Gambling Budget and Stick to It
Setting a gambling budget is an essential step for anyone planning a trip to Las Vegas. By determining how much money you are willing to spend on gambling activities before you arrive, you can ensure financial responsibility and avoid overspending.
It's important to stick to your predetermined budget once you start playing in the casinos, as it will help prevent excessive losses.
Remember that casinos may offer comps, such as meals, discounted show tickets, and rooms, which can offset some of your gambling expenses if luck isn't on your side. Make sure you sign up for the players card for wherever you are going to gamble.
To be prepared, consider bringing enough cash to cover all of your planned gambling activities during your stay. And don't forget that many casinos offer free "learn to gamble" lessons so you can learn a new game or improve your skills.
Take Advantage of Hotel Amenities and Discounts
Hotels in Las Vegas offer a range of amenities and discounts to help guests save money and enhance their trip. When planning your stay, it's important to consider the amenities that are important to you, such as free breakfast, parking, or Wi-Fi.
Some hotels even offer complimentary access to pools, gyms, or spas. Additionally, many resorts and hotel chains provide discounts for military personnel, first responders, educators, and AARP members.
To further save on costs, websites like Expedia and Tripadviser often offer special deals when booking flight and hotel transportation together. By taking advantage of these amenities and discounts available at hotels in Las Vegas, visitors can enjoy more funds for exploring the diverse attractions and activities this vibrant city has to offer.
Explore Beyond the Famous Las Vegas Strip
Discover a different side of Las Vegas by venturing beyond the famous Las Vegas Strip. While the Strip offers a dazzling array of entertainment and attractions, there is so much more to see and do in this vibrant city.
Explore the surrounding areas to uncover hidden gems, such as scenic hikes in Red Rock Canyon or breathtaking views from the top of the High Roller Observation Wheel. Immerse yourself in local culture by visiting the Downtown arts district or the Downtown Container Park.
From unique dining experiences to off-Strip casinos, exploring beyond the Strip will enhance your Las Vegas trip with unforgettable moments and unexpected discoveries.
Conclusion – Planning a Trip To Las Vegas
Plan your perfect Las Vegas trip with our comprehensive guide. Discover the best time to visit, set a budget, choose accommodations, plan activities and attractions, and arrange transportation.
Whether you want to stay on the iconic Las Vegas Strip or explore off-strip options like Fremont Street, we've got you covered. Find the ideal hotel that fits your budget and offers the amenities you need.
Don't miss out on must-do activities in Las Vegas and maximize your experience with insider tips. Remember to stay hydrated in the desert climate and dress appropriately for different venues.
Set a gambling budget and take advantage of hotel amenities and discounts. Explore beyond the famous Strip for even more excitement. Start planning now for an unforgettable trip to Las Vegas!