The Ultimate Guide to Visiting the Sphere in Las Vegas
The Sphere in Las Vegas is not your average entertainment venue. Its striking spherical design integrates state-of-the-art technology to create an unprecedented audio and visual sensory experience for guests.
Its jaw-dropping features include a staggering 160,000-square-foot interior 16K resolution LED display, paired with over 150,000 speakers and haptic seating, setting it apart from any other venue of its kind. You will actually "feel the show".
This cutting-edge arena goes beyond traditional entertainment—it redefines it! Brace yourself for an awe-inspiring experience only Vegas can offer!
---
Important Things To Know About The Sphere in Las Vegas
At the Sphere, you can enjoy concerts, events, performances and even immersive experiences that take advantage of its high-tech visual and audio features.
The Sphere is located on the east side of the Sands Avenue, between Manhattan Street and Koval Lane in Las Vegas.
The Sphere has a seating capacity for up to 18,000 people for various events such as concerts or performances.
It is recommended to purchase tickets in advance due to high demand for shows and limited seating capacity.
---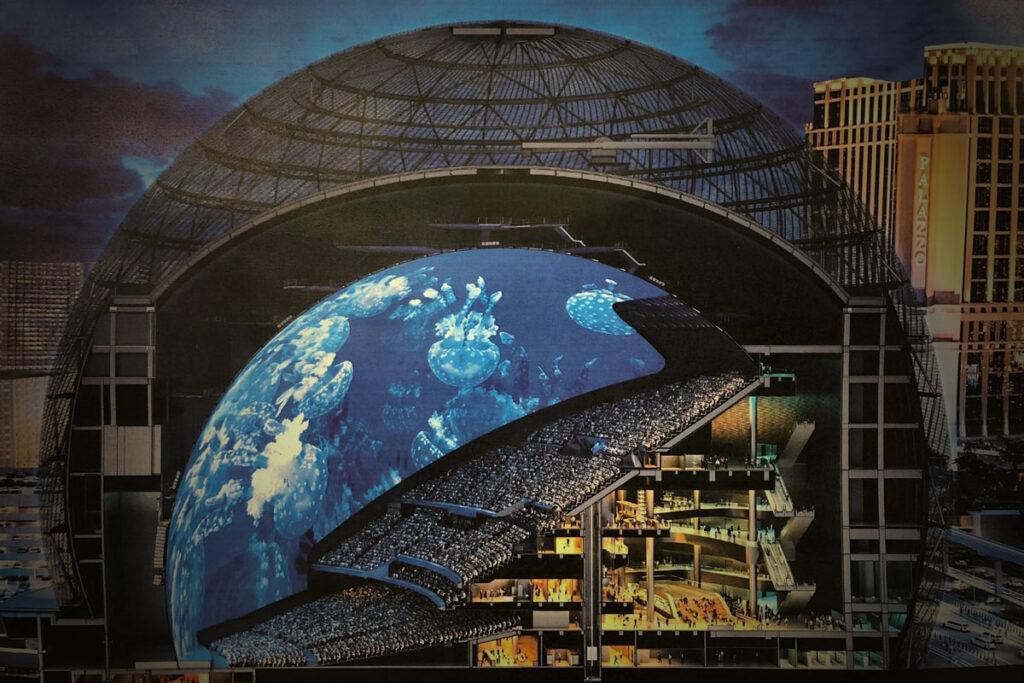 What is the Las Vegas Sphere?
The Las Vegas Sphere is a dazzling marvel of modern entertainment. Opening its doors in 2023 after an impressive $2.3 billion investment, it revolutionizes the concept of performance venues.
Designed to captivate audiences from all corners of the globe, it utilizes advanced technologies that ignite the senses and transport you into another realm.
With a seating capacity of 18,000, The Sphere holds the title as the world's largest structure of its kind. Its sheer size enhances acoustics and visuals, delivering performances like nothing you've seen before.
In addition to being technologically advanced, the exterior of the Sphere boasts an eye-catching appeal befitting its Las Vegas location.
With videos showcasing these mind-blowing features readily available for viewing online, you cannot help but appreciate the sophistication and genius behind this architectural feat.
Why You Should Visit the Las Vegas Sphere
The Sphere is no ordinary venue, it's an epitome of futuristic technology mixed with entertainment. Boasting a massive 18,000-seat capacity and a gigantic 580,000 square feet of LED displays on its exterior, it stands as one of the most technologically advanced concert spaces in the world.
The state-of-the-art technology integration allows for immersive experiences during shows that captivate audiences like never before.
Besides concerts by some of the world's greatest artists, you can catch innovative interactive exhibits that utilize cutting-edge tech to offer unique sensory experiences.
These are not your average museum-like exhibits; they involve visitors completely and transform their perception through multiple layers of audio and visual effects. In short, there is always something happening here!
Tips for a Successful Visit to the Sphere
Secure your tickets early to beat the rush. Plan your visit around popular events for maximum enjoyment. Arrive ahead of time to soak in all The Sphere has to offer. Remember to explore nearby attractions on the Las Vegas strip after your visit!
Purchase Tickets in Advance
Buying your tickets ahead of time is a must for your visit to the Sphere in Las Vegas. With day of concert prices ranging from $400 to over $1495, advance purchase can save you money and guarantee a spot at this popular entertainment venue.
If you are planning on driving to the Sphere, parking can be sketchy and expensive. We parked at the Hughes Center garage, which was only $15 but event parking at the Venetian, Wynn or Encore runs about $30 for the day.
Keep these savings tips in mind as they will significantly enhance your overall experience without straining your budget.
Choosing Your Seats
While there are no bad seats at the sphere since the screen wraps 3/4 of the way around and over the venue, there are several things to know before you select your seats:
General Admission: standing room only and may not be available for all shows and concerts. While you will have a great view of the band during a concert, your view of the background visuals may be obstructed and sound quality may not be optimal.
100 Section: slightly elevated from the stage and not very steep. These are the easiest seats to get to but you may feel like you are sitting in the front row of the movie theater and may miss some of the visuals.
200 Section: located on the terrace level, you will still have great views of the performers and easy to get to, but these seats may be some of the most expensive for concerts.
300 & 400 Sections: located on the gallery levels, these seats are a little more difficult to get to as far as stairs and escalators and the stairs are much steeper than other levels. Concert performers may seem tiny but these sections are the best for taking in the visuals and for sound quality. Not the best if you are uncomfortable with heights.
Insider Tip: For those who may have difficulty navigating stairs, there is an elevator near the West side entry door.
Arrive Early for the Best Experience
Get to The Sphere as soon as the doors open for a spectacular experience! Early arrival ensures you ample time to soak in the stunning architecture, explore interactive exhibits before crowds pile up and snag prime spots for live performances.
Plus, it allows you to take advantage of free parking at Wynn and Encore during the first four hours of your visit. Trust me; nothing beats experiencing The Sphere's immersive sound system in a leisurely manner without feeling rushed or overwhelmed by big crowds.
Quick tip: entering from Venetian pedestrian area gets you faster into the venue.
Consider Nearby Attractions
The Sphere is a gem, but Las Vegas has so much more in store! Just steps away from the venue, you'll find the Venetian Resort for some luxurious relaxation. For adrenaline lovers, there's the nearby High Roller Ferris wheel that offers breathtaking panoramic views of Sin City.
And let's not forget Sands Avenue lined with world-class restaurants and vibrant shops for those who love to eat and shop. Exploring these dazzling attractions along with The Sphere will surely make your Vegas trip unforgettable!
How to Get to the Las Vegas Sphere
Reaching the Sphere in Las Vegas is amazingly simple, whether you choose to hop on the convenient Las Vegas Monorail or opt for a leisurely stroll from nearby hotels – learn more about these easy-to-navigate routes!
The Sphere also boasts an excellent location, settled just east of the Venetian and Palazzo. This makes it a breeze to access from the Strip itself via the pedestrian walkway that links directly to these popular resorts.
Using the Las Vegas Monorail
Traveling to the Sphere in Las Vegas via the monorail proves to be a fantastic choice for its efficiency and convenience. The outstanding Las Vegas Monorail routinely transports an impressive average of 140,000 passengers during citywide conventions.
Showcasing a track expanding over five remarkable miles, it currently houses seven stations dotted conveniently along the famous Las Vegas Strip.
The exciting news is that soon there will be two additional stops added, enhancing accessibility across more locations for tourists like us! This increased connectivity extends to as many as 42,000 hotel rooms on this route.
So whether you've booked accommodation at Caesars Palace or MGM Grand, hopping onto the monorail becomes a breeze. Making our lives even easier is how close one of these stations – Venetian/Palazzo station – stands from our ultimate destination: the Sphere in Las Vegas.
Just a short walk from this stop lands us right at the venue's doorstep!
Walkability From Nearby Hotels
Strolling to the Sphere from nearby hotels is a breeze, especially if you're staying at places like The Venetian or Palazzo which is a short walk.
Trust me, I've made the walk myself! It's not only convenient but also an incredible way to soak in the electric vibe of Las Vegas. Opting for a nice walk can add an extra layer of fun and adventure to your overall sphere experience!
What to Do and See at The Sphere
At The Sphere, prepare to be blown away by thrilling interactive exhibits, witness dazzling live performances that will captivate your senses and indulge in a variety of scrumptious dining options.
Ready for an unforgettable experience? Let's dive deeper!
Exciting Interactive Exhibits
At The Sphere in Las Vegas, the interactive exhibits aren't just for viewing—they're all about participation. You'll be drawn into new worlds with immersive digital experiences that tickle your senses and elevate your curiosity.
Each exhibit is uniquely designed to engage visitors in a fun, innovative way. This isn't like any museum you've been to before—it's hands-on entertainment at its finest.
Impressive Live Performances
The Sphere in Las Vegas offers some of the most noteworthy live shows you'll ever see. This state-of-the-art venue, wrapped in over a million LEDs, has quickly become world-renowned for hosting epic events and performances.
U2 set the bar high with their groundbreaking inaugural show! Here, musicians and performers take full advantage of The Sphere's advanced technology to create immersive visuals that accompany each beat.
Imagine watching your favorite artist on stage as surrounding lights mimic an underwater scene or another fantastical landscape – it truly takes the concert experience to another dimension! You're not just watching a performance; you're part of an unforgettable spectacle at The Sphere.
Final Thoughts on the Sphere in Las Vegas
As you plan your trip to Las Vegas, venture beyond the casinos and check out The Sphere. Discover its amazing technological marvels, savor the food from unique dining options, and get thrilled by world-class performances.
With handy tips and accessible transportation options included in this guide, a remarkable experience awaits at The Sphere!