How to Find the Best Deals on Las Vegas Hotels – Unlock Jaw-Dropping Deals!
Ever been knocked back by the hefty price tag on a Las Vegas hotel booking? Finding the best deals on Las Vegas hotels can be a frustrating and time consuming task. After diving deep into research and my own personal hands-on experience, I've whittled down some reliable ways to help you keep more green in your pocket during your next Vegas adventure.
So let's roll the dice and check out these budget-friendly tips that promise an impressive return for your hard-earned dollars!
Finding the Best Deals on Las Vegas Hotels
Visiting Las Vegas during off-peak times can result in significant savings on hotel rates. The city, known for its pulsating nightlife and bustling entertainment scene, sees a spike in visitor numbers during popular holidays like New Year's Eve or on the weekends.
Similarly, prices tend to rocket up around big events such as the Super Bowl, F1 Racing, Electric Daisy Carnival (EDC) and National Finals Rodeo (NFR). Avoiding these peak periods can be an effective way to minimize your lodging costs.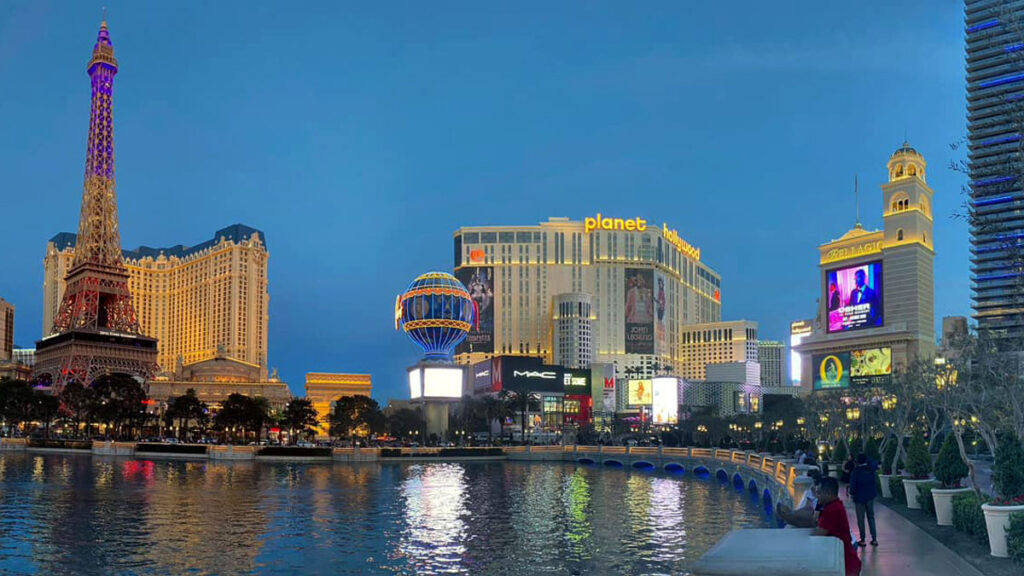 Super Bowl: Hotel rates skyrocket due to the influx of football enthusiasts ready to cheer on their teams, making it one of the most expensive times to visit. The city's economy thrives on these sporting occasions with billions added to the revenue every year.
Formula One: As exhilarating as the racing can be, visiting Las Vegas during this period may leave your pockets considerably lighter. The event has an incredible overall fiscal impact, coming close to $1.3 billion.
Electric Daisy Carnival (EDC): A festival haven for electronic dance music lovers tracks an impressive number of visitors each year. However, this also means that hotel accommodations are more expensive than usual.
National Finals Rodeo (NFR): This major event in rodeo culture draws large crowds causing a spike in pricing for available rooms.
To further illustrate this point – according to data from the Las Vegas Convention and Visitors Authority (LVCVA), midweek room rates are generally about 50% lower than weekend rates due to lesser demand.
So not only would booking during weekdays save you cash but it could also mean less crowded casinos and shorter lines at the buffet counters! Just imagine having Sin City pretty much all to yourself without breaking the bank – that's worth considering for sure!
Utilize Hotel Rewards and Loyalty Programs
Enrolling in hotel rewards and loyalty programs can significantly help lower your accommodations expenses when you're visiting Las Vegas. These platforms are free to join and enable you to start earning points on every dollar spent, which later can be used for booking hotel rooms, dining or entertainment activities.
Make sure to be diligent and use your rewards card anytime you gamble, charge your food and drinks to your room and be sure to check with a casino host before you check out to see if anything can be comped for your stay. You may not earn a lot of comps your first visit but you will start receiving reward offers for your next visit after you check out.
For instance, The MGM Resorts M life Rewards program gives you the advantage of earning reward points at over a dozen properties around Vegas. Not only does this give you an abundance of choices for your stay but also increases your potential savings as points accumulate.
Here are some of the most common loyalty programs for las Vegas:
MGM Rewards
Caesars Rewards
Stations Casinos My Rewards
Boyd Rewards
Wynn Rewards
Venetian/Palazzo Grazie Rewards
Earn Rewards by Playing Free Slot Games on myVEGAS App
For those who like to stay at the MGM Hotels, start playing free slot games on the MGM myVEGAS app. Over time you can build up loyalty points that can be used for free hotel stays and slot play, as well as discounts on dining, shows and attractions.
You will have to be flexible on the dates that you stay and sometimes the free room offers are limited but you can stay up to two nights free, just pay the resort fee. I use this every time I am looking to do a staycation on the Strip and have saved thousands.
Book Directly with the Hotel for Additional Perks
Booking directly with the hotel opens up a treasure chest of perks for visitors. Unlike third-party booking sites, direct bookings often yield better room selections, lower rates, more flexibility in reservation changes, and even free on-site amenities.
Many hotels prioritize their own customers over those coming from other platforms to ensure customer satisfaction and loyalty.
By choosing to book directly through them rather than third-party websites, you're racking up points for every cent spent – these can be redeemed toward future stays or other premium offers at their properties.
Simply put: Do not discount the power of a direct hotel booking during your trip planning process in Las Vegas – it's potentially budget-saving while being extravagantly rewarding!
Sign up for the Hotel Email List to get Hotel Package Offers
Here's a smart strategy I use to save money on hotels in Las Vegas – signing up for the hotel's email list. I've found that it gives me access to exclusive deals and package offers that aren't available anywhere else.
Usually these offers include free food and drink, slot play or spa offers with a reduced room rate.
Use Marriott, Hyatt, IHG Hotel Reward Points When Booking Your Room
Enrolling in hotel loyalty programs is a smart move if you're trying to save money on hotels in Las Vegas. These programs offer numerous benefits that translate into significant savings. Here's how:
Marriott, Hyatt, and IHG hotel reward points knock dollars off your final bill. All three hotel chains have robust reward programs that allow you to accrue points for every dollar spent on bookings.
As an IHG Rewards Club member, you can redeem your points for award stays at the all – suite Venetian or Palazzo resorts.
Marriott Bonvoy members have the option of using their points to book reward nights at most IHG properties in Las Vegas, offering more flexibility with their rewards.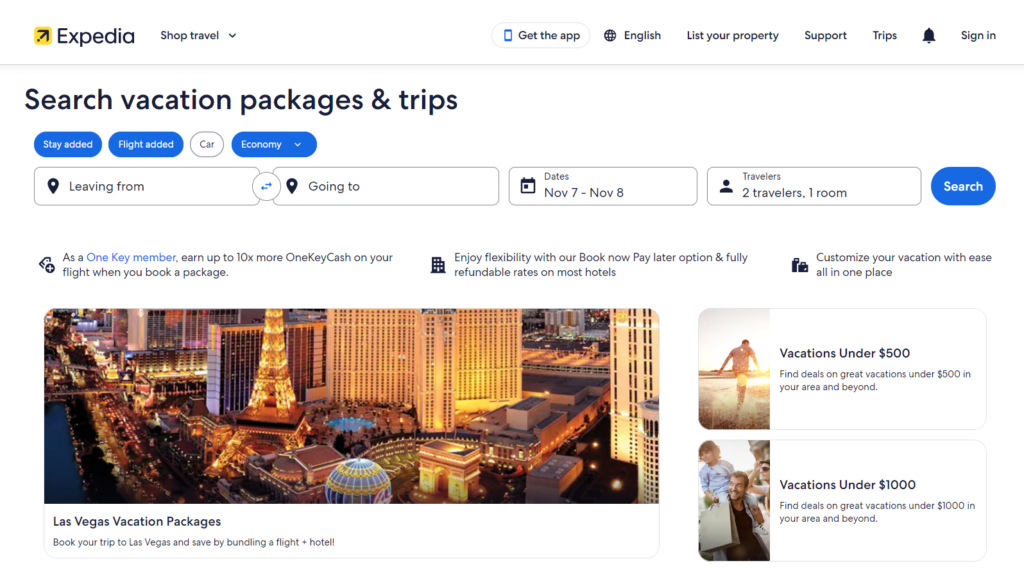 Bundle Flight and Hotel for Savings
Booking your flight and hotel together can yield considerable savings when planning a trip to Las Vegas. Travel booking sites like Expedia, Orbitz or Priceline typically have partnerships with hotels and airlines, providing discounted package deals that can cost significantly less than buying each separately. Let's look into how different memberships and affiliations can get you lower rates at hotels in Vegas.
Use Booking Sites for Package Deals
Travel websites are a treasure trove of package deals to save money on hotels in Las Vegas. Expedia, for example, lets you bundle your flight and hotel together which could save you up to 25-50% off the cost of your flight.
With just a few clicks you can access an array of choices based on your budget and preferences.
Costco Travel provides another avenue for snagging discounts if you're a Costco member. Beyond everyday savings on hotels and cruises this platform also offers package deals that include airfare along with hotel accommodations.
This not only allows you to save money but also precious time planning out every detail of travel separately. In combination these booking sites help make traveling to Las Vegas more affordable, allowing you to enjoy the city without breaking the bank!
Save as AAA Member
Being an AAA member offers great savings on hotel bookings in Las Vegas. You stand to enjoy up to 20% off and earn World of Hyatt points when you book AAA/CAA rates with Hyatt hotels.
Irrespective of how long you plan to stay or what day of the week it is, as an AAA member you can save 20% on your reservations. Don't miss out on these incredible deals while planning your Las Vegas adventure!
Use Military Discounts
Being a military member or veteran definitely has its perks when planning a trip to Las Vegas. The city acknowledges your service with generous discounts on hotel stays. MGM Resorts, for instance, offers up to 25% off on bookings made directly through them – that's huge savings right there!
Surprisingly not only luxurious hotels provide these discounts, but also budget-friendly options like the Plaza Hotel and Casino. They offer 15% off all their stays! Caesars Rewards participating hotels chip in too with an incredible up to 30% discount.
While most discounts won't apply at the time of booking, don't forget to mention your military status at check-in, it might just make your stay more enjoyable and lighter on the pocket!
Check for Student, Teacher, First Responder, and Local Discounts
I want to clue you in on a few lesser-known discounts that could significantly reduce your hotel costs. Las Vegas hotels offer substantial savings for specific groups.
Students and teachers can lighten their travel budgets with notable price cuts. By using the promo code EESSW, they can receive up to 35% off on their hotel stay in Las Vegas or at any Caesars Entertainment property.
Teachers stand a chance to not only save massively on their hotel stays but also have fun without breaking the bank as they get up to 50% off on show tickets and other attractions.
Law enforcement officials, firefighters, EMS workers, and military personnel are not left out from huge savings up to 65% on show tickets, hotels, and more.
Use Credit Card Travel Miles
Using credit card travel miles is a handy trick to curb your expenditure on Las Vegas hotels. Many cards offer fabulous welcome bonuses, such as the Chase Sapphire Preferred Card's grandiose 80,000-point bonus for travel.
The Capital One Venture Rewards Credit Card is another great travel credit card option with a whopping 75,000 point bonus. This can translate into significant savings on hotel rooms!
Cards like American Express Platinum even let me nab great discounts on my favorite accommodations in Sin City. One splendid perk of this card I love is their association with Ritz-Carlton that gave me access to a whopping $525 property credit!
That's how rewarding using travel miles can get!
Other Ways to Save Money on Hotel Stays in Las Vegas
Exploring alternative accommodations can significantly cut costs; consider stepping away from the Strip, checking downtown options, or leveraging your skills to negotiate better deals or even free upgrades.
Don't shy away from requesting resort fee waivers either – it's all part of the art of saving money in Las Vegas! But wait, there's more to uncover on this topic. Stay tuned!
Stay off the Strip or Downtown
Planning a trip to Las Vegas doesn't always mean you have to stay right on the Strip. Opting to book a room away from the Strip may provide you with more bang for your buck, offering larger rooms, cheaper rates and free parking.
Even the best Downtown hotels often charge less in terms of resort fees leading to massive savings. These hotels also tend to be less crowded, allowing for a more enjoyable and relaxing vacation.
In addition, meals are typically cheaper at these accommodations. You can find some fantastic dining bargains while immersing yourself in local culture and cuisines.
Ask for Free Upgrades
Planning a trip to Las Vegas can be an exciting time, full of anticipation for the entertainment and fun that awaits. However, your hotel stay may pose a significant chunk of your travel budget. Here's a little secret: You can aim higher for less by just asking for free upgrades.
Free upgrades in hotels are often up for grabs in Las Vegas. Take advantage of this at check-in by kindly asking if there are any available complimentary upgrades. It's as simple as that, yet it's something many visitors overlook when they check – in.
More often than not, upgrades can offer you enhanced room features like better views, more space or increased luxury at no extra cost. The trick here is not being afraid to ask. Hotels may have unoccupied rooms they're willing to upgrade you to simply because they're not fully booked.
This strategy doesn't always work but when it does, you could find yourself enjoying a much better room without shelling out any extra cash.
Ask to Waive the Resort Fee
If you're planning your next trip to Vegas, knocking out the resort fee is a surefire way to save big. Here are some helpful steps!
Politely communicate your request at check – in and check-out. Explain that you would like to see if the resort fee can be waived because you don't plan on using the facilities.
If possible, book your room using hotel rewards points; this could potentially remove the resort fee cost. Using a hotel – associated credit card like Hilton's could exempt you from these fees when booking with respective points.
Conclusion: Getting the Best Deals on Las Vegas Hotels
Ultimately, saving money on hotels in Las Vegas is within your reach. Through strategic planning and taking advantage of deals, you can enjoy a luxurious stay without breaking the bank.
So get ready to pack your bags for an unforgettable trip that's as wallet-friendly as it is fun!